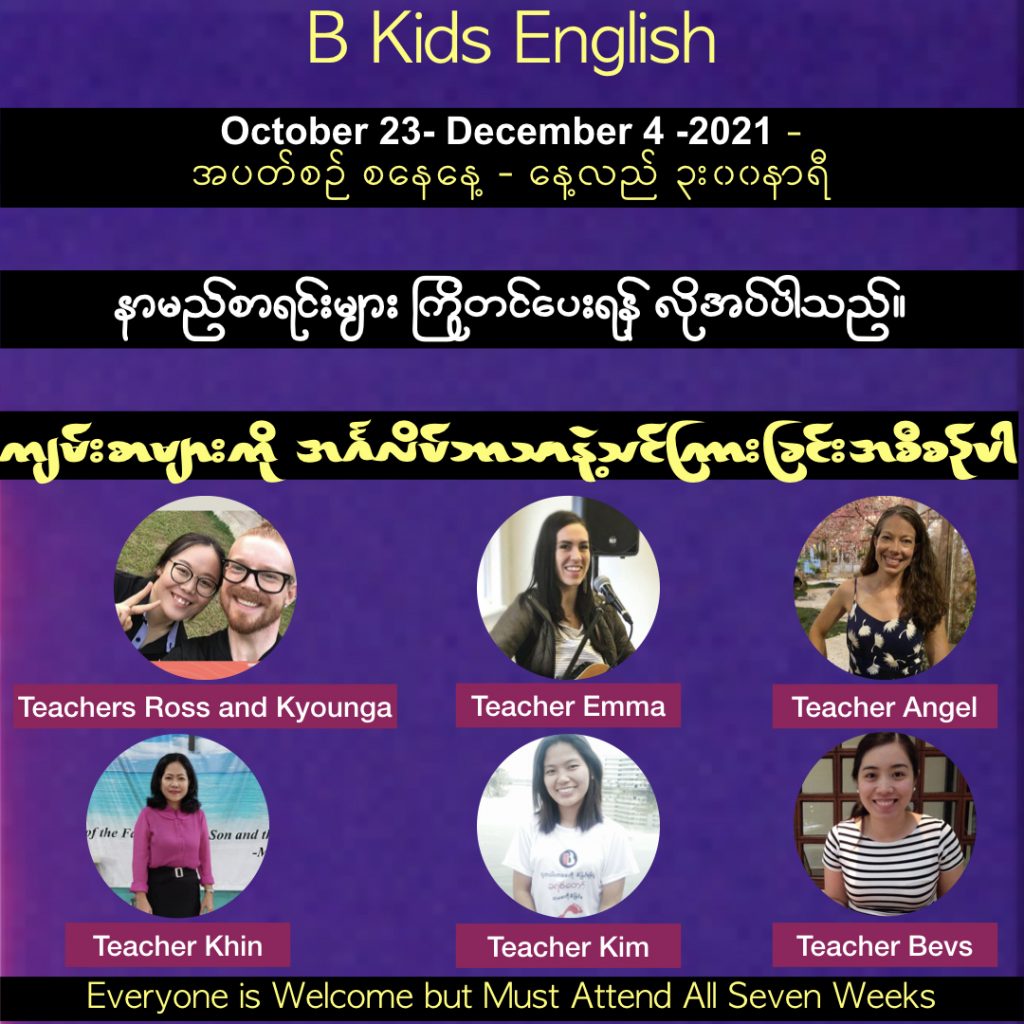 welcome everyone
---
October 23-December 4 -2021 at 3 PM (Myanmar Time) on Saturdays
October 23 – — Lesson: God Created us in His Image: Teachers – Teachers Ross and Kyounga.
October 30 — Noah Followed God's Command — Teacher Emma
November 6 — Joseph Met His Brothers: Teacher Kim or Bevs
November 13 — God Gave the Ten Commandments to Moses: Teacher – Teacher Khin
November 20 — Samson Did What He wanted: Teacher — Teacher Angel
November 27 — David Fought Goliath in the Name of God — Teacher Kim or Bevs
December 4 — Daniel Was thrown into the Lion's Den — Teacher Emma
This Class is going to be on ZOOM. Zoom ID: 9250388422 Password is not required. For the Link — Click here –
This Class is for Kids from 13-16 Years old. For Younger ones, we will plan to start a new one.
zoom တွင်သင်ကြားမည့်အတန်းဖြစ်ပါသည်။ zoom ID: 9250388422 ပါ။ Password မလိုအပ်ပါ။ ဒီအတန်းသည် ကလေးများ ၁၃ မှ ၁၆ နှစ်ထိများအတွက်သာဖြစ်ပါသည်။ ဒီထက်အငယ်တန်းများအတွက် သီးခြားပြန်လည် စီစဉ်ပေးနိုင်ရန် ကြိုးစားဆက်ကပ်နေပါသည်။
Each Class is Going to be between 1:00 – 1:15 Hours. So you will have plenty of time to interact with Kids, You can plan on your own how you would want to run this class for 1 hour or 1 Hour and 15 Minutes.
Our goal is to share Bible stories and also help children learn English. So you have words to explain in a way you would want it's definitely okay!
May we kindly ask you to come 10 or 15 minutes before the class start so you can have a conversation with Kimboih who is the main person leading this whole program about how you will want it run. Each class will start with Teacher Kimboih and End with prayers from her. If you have any requests please do so by emailing me at PastorRobinKung@gmail.com
Thank you very much,
Robin Kung